Ancient Rome's Collapse Is Written Into Arctic Ice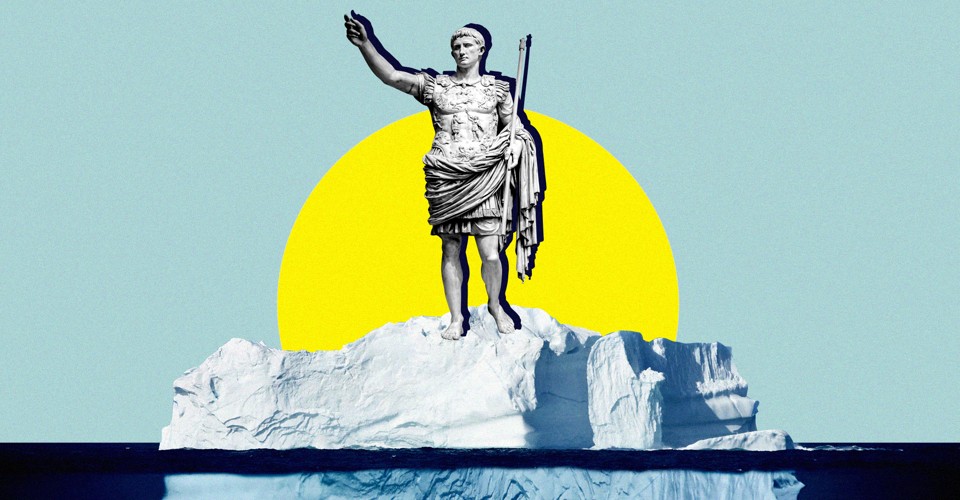 On March 15, some time ago, several dozen famous politicians—sturdy men, duly elected senators who claimed to love their republic—attacked their chief executive while he walked into the Senate. They stabbed Gaius Julius Caesar 23 times, as he fell to the floor, defenseless, and bled to death, setting off a chain of wars that formally ended the Roman Republic and initiated the Roman Empire. Some 2,062 years have passed since that day, but we haven't stopped arguing about it.
From Central Park productions of Julius Caesar to op-ed accusations of "Caesarism," the Roman dictator—and the world he inhabited—still looms in our political conversation. Even the architecture of Washington, D.C., suggests that it is a kind of New Rome. But for all those years, the source material for the arguments have remained largely the same.
Archaeologists can locate new sites and excavate for coins, plates, or jewelry; scholars can read and reread Roman writers like Cicero, Sallust, and Catullus, who all documented Caesar. These have been the techniques for learning about Rome for centuries, and they are indispensable. But lately, they have been joined by something new.
On Monday, scientists announced the discovery of an entirely new resource that has the potential to remake some of those centuries-old arguments over Roman politics and history. A team of archaeologists, historians, and climate scientists have constructed a history of Rome's lead pollution, which allows them to approximate Mediterranean economic activity from 1,100 B.C. to 800 A.d. They found it hiding thousands of miles from the Roman Forum: deep in the Greenland Ice Sheet, the enormous, miles-thick plate of ice that entombs the North Atlantic island.
Source: theatlantic.com