Kroger will use autonomous vehicles to deliver groceries this fall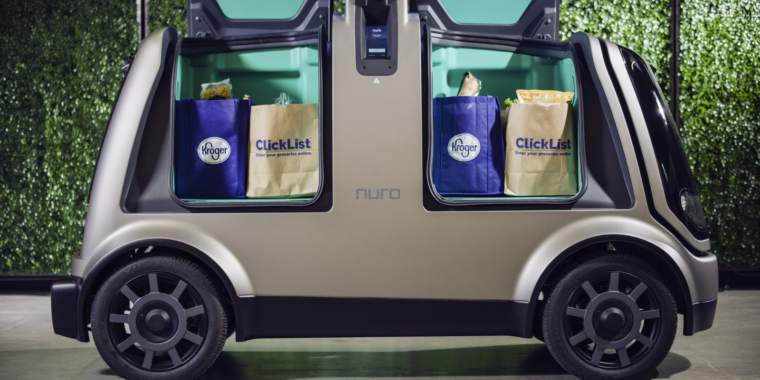 Most coverage of autonomous vehicles has focused on cars with human passengers in them. But there's also a big opportunity to use autonomous vehicles to transform the retail sector. And one promising company in that emerging industry is Nuro, a startup founded by two early members of the Google self-driving car team.
Now Nuro is announcing its first commercial partnership: with Kroger, one of the nation's leading grocery chains. Starting this fall, Kroger plans to start delivering groceries to customers using Nuro's autonomous vehicles. Initially, the partnership will only be active in a single market—the companies haven't yet said which city that will be.
But Nuro's goal is to eventually provide service across Kroger's entire retail footprint. And that footprint is large. In addition to Kroger stores, the company also owns the Dillons, Harris Teeter, QFC, Ralphs, Roundy's, and Smiths supermarket chains, among others.
In total, Kroger says it owns 2,800 stores in 35 states. Nuro differs from some other autonomous delivery startups—including Starship and Marble—because its vehicles are designed to operate on public streets rather than on sidewalks. Its vehicles are designed to travel at speeds up to 25 mph (40 km/h)—fast enough to keep up with traffic in a lot of residential neighborhoods.
Nuro hopes to increase its maximum speed to 35 mph (55 km/h) as its technology matures.
Source: arstechnica.com