Ion Drive Meets Drone, as Small Plane Flies With No Moving Parts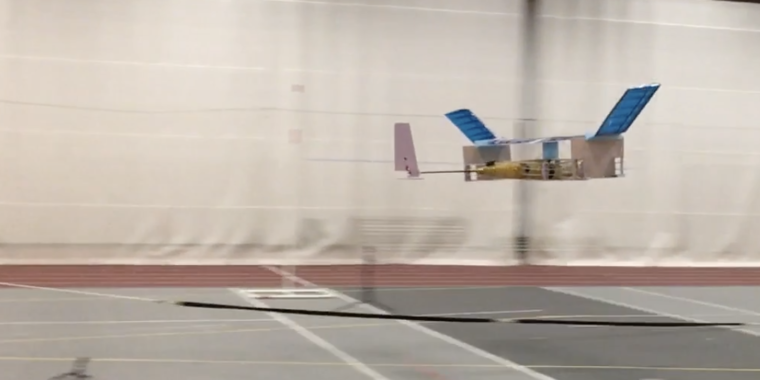 The Johnson Indoor Track at MIT probably won't go down in history in the same way as Kitty Hawk has, but it was the scene of a first in powered flight. A team of researchers has managed to build the first aircraft powered by an ionic wind, a propulsion system that requires no moving parts. While the flight took place using a small drone, the researchers' calculations suggest that the efficiency of the design would double simply by building a larger craft.
In conventional aircraft, air is pushed around by moving parts, either propellers or the turbines within jet engines. But we've known for a while that it's also possible to use electrical fields to push air around. The challenge is that air is largely made of uncharged molecules that don't respond to electric fields.
But at sufficiently high voltages, it's possible to ionize the nitrogen and oxygen that make up our atmosphere, just as lightning does all the time. The electrons that are liberated speed away, collide with other molecules, and ionize some of them as well. If this takes place in an electric field, all those ions will start moving to the appropriate electrode.
In the process, they'll collide with neutral molecules and push them along. The resulting bulk movement of atmospheric molecules is called an ionic wind.
Source: arstechnica.com